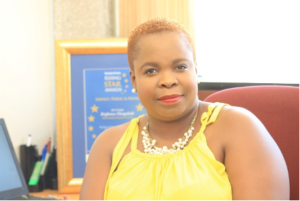 Brightness Mangolothi is a Director at HERS-SA. A former Head of Department for Public Relations and Communication Studies at Nelson Mandela University and Head of Programme at AdvTech Independent Institute of Education (IIE). She has more than a decade lecturing and research supervision experience at public and private universities.


A former Public Relations Institute in Southern Africa (PRISA) Board Member and Eastern Cape Chairperson. She holds qualifications in Public Relations, Education, and a Master in Business Administration. Her Doctorate, focuses on "Women Academics Experiences of Workplace Bullying in Higher Education.


A 2015 Standard Bank Rising Star Finalist. She has been a Gold Quill Awards Evaluator for the International Association of Business Communicators, since 2015. Brightness is passionate about youth and women development. She has mentored a number of women and youth via a number of women and youth organisations.