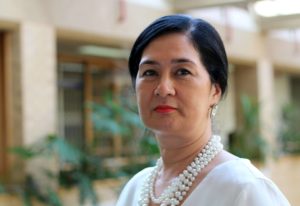 Shahieda Bebe Hendricks-Adams
Shahieda Bebe Hendricks-Adams is an Education Training, Development and HR Practitioner with 25 years' experience in the coaching, management and training sphere, more specifically in Neuro-based coaching, multiple braining integration techniques (mBIT) coaching, mediation, counselling, training, facilitation, skills development processes and Neuro-Linguistics Programming (NLP). She currently holds the position of Manager: Staff Learning and Development at Cape Peninsula University of Technology (CPUT).
Shahieda is passionate about development and making a constructive difference in people's lives and adding value to the organization. Her ability to work hard, plan well, willingness to learn, ensuring goals and outcomes are met, has always been important to her. Her creativity and dedication has been acknowledged and recognized by her peers and management. Shahieda values honesty, openness, trust, a good team spirit, a stimulating environment and a good challenge.